Edible Rock Oyster Project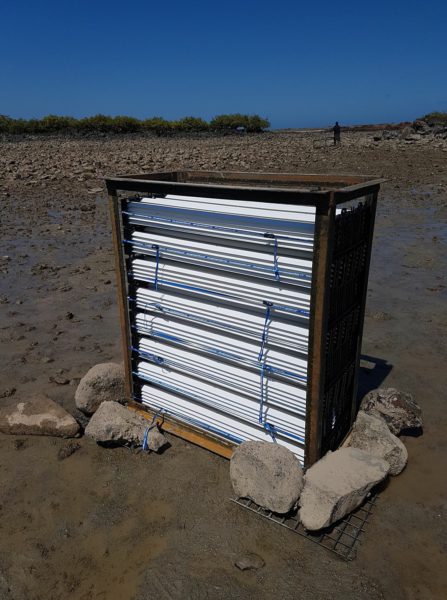 The rock oyster aquaculture industry in Australia produces over 15 million dozen oysters and is valued at over $90 million dollars annually.  The current production is based in NSW, Tasmania and South Australia.
There is currently no rock oyster production in the north west of Western Australia.  Maxima Pearling Company and its partners in the project are excited by the opportunity to trial production of local species of rock oysters in the Pilbara and Kimberley of Western Australia.
This exciting new project is developing a pilot scale rock oyster farm in the Dampier Archipelago. The rock oyster project has the potential to diversify the region's economy and provide economic development opportunities for the traditional owners represented by the Murujuga Aboriginal Corporation..
Maxima in a joint venture with the Murujuga Aboriginal Corporation and Pilbara Development Commission, Fisheries Research and Development Commission and City of Karratha, after changes to state pearling lease legislation, is looking to re-purpose its pearling leases in Flying Foam Passage,
The  research and development pilot project funded by a mix of Commonwealth, State and local government grants with private investment from Maxima Pearling and Murujuga Aboriginal Corporation will trial various locally occurring species of oyster to establish growth and mortality rates as well as ensure that the oysters are safe for human consumption,
The lease is in waters surrounded by the Murujuga National Park islands, which are home to millions of rock carvings. Read More…News
Traditional owners excited for ranger opportunities
Murujuga Aboriginal Corporation chairwoman Raelene Cooper said she was excited to see the idea of an oyster farm on their country progressing.
"It's been a vision and dream for a lot of our members, especially our elders who have been and gone," Ms Cooper said.
"I think it's such an exciting thing, and I'm honoured to be a part of it.
"Five brand new ranger trainees have just started, and they're quite excited about learning all sorts of things."   Ref http://www.abc.net.au/news/rural/2017-03-17/oyster-trial-in-pilbara-open-opportunities-for-mining-region/8365058
exploring success for over 30 years
Maxima Pearling Co. has been exploring aquaculture opportunities within its pearling lease sites to diversify use of its pearling assets. Species investigated and grown to date have been; Black Tiger Prawns, Barramundi, Pteria penguin, Pinctada margaritifera, tropical Blacklip rock oyster.