History
1987-1989
A long association between Graeme Hutton and David Jackson, originating in the resource industry, saw Hutton invest in the pearling industry skills of Jackson by applying for 1 of 2 small pearl shell quota licences in Zone 1- Lacepede Channel of the fishery.
The successful application resulted in the issuing of a 10,000 shell pearling licence in 1988 to Maxima Pearling Company.  Maxima's quota soon expand to 15,000 shells.
The company's first pearling lugger- Daniel McDaniel was a wooden ketch, built in 1957, the Lugger was purchased in June of 1987 and its first task was to establish a surface long-line pearl culture site at Cone Bay.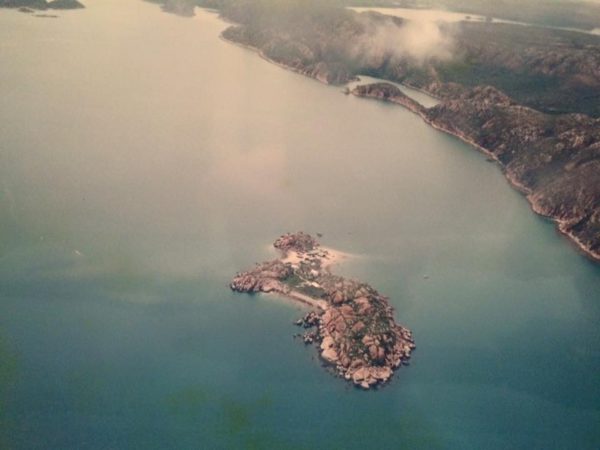 The Skipper Dave Jackson and crew of 5, initially operated from the cramped confines of the Lugger until gaining a long-term lease on Turtle Island, a small shell grit beach pointed by 3 large granite outcrops, not more than 180m off the steep Southern peninsular of Cone Bay. The lugger would depart Cone Bay prior to the neaps, fish the lucrative pearl shell grounds of the Dampier Peninsular' Lacepede Channel, approximately 20 nautical miles South West of Beagle Bay, and return to Cone Bay on the spring tide to further establish the farm and island base site.
The first 3 years of farming were tough going. Uncomfortably hot, sand-fly infested conditions, whilst sleeping in swags and having minimal washing was a daily grind for the crew. The warmer waters, ideal for pearl shell growth were also ideal for barnacle and biofouling growth, which meant crew would spend 15 hour days cleaning shell and long-line equipment before retiring to a meal and their swags. The average roster was 8 weeks on and 1 week off.
Despite this hardship, the first harvest was celebrated in 1991 and the harvest pearls were quickly recognised by global wholesalers for their brilliant white lustre, clean skins and pinkish hues. Maxima had established itself as a reputable brand amongst the international South Sea Pearl market and that pioneering spirit exhibited by the company crew, became a hallmark of the way Maxima would go about its business
1990-2000
The pearling industry was roaring in the early 1990's. Australian South Sea Pearls were a highly sought after. This was due to the co-operative marketing efforts of the South Sea Pearl Consortium- a collaboration between local Australian producers and key global wholesalers.
In the early 1990's with high global demand for production of cultured pearls and limitations on the sustainable wild harvest of pearl oyster shell and the development of hatchery production of pearl oyster spat the government approved an additional hatchery quota production target of 20,000 operated shell per year per producer.
This led to the development of hatchery facilities at a number of location around the industry.
Maxima recognised that it must expand its harvest volume by way of the hatchery quota target. In 1996 Maxima established a fully operational hatchery on Turtle Island and investing in specialist personnel and equipment, Maxima quickly established itself as a successful premium supplier of hatchery produced pearl spat to many of the significant pearl producers in the industry. Maxima also pioneered a number of the grow-out techniques and procedures for rapid juvenile pearl spat growth on long-lines.
With the hatchery quota production, Maxima recruited and further trained specialist algologists, hatchery technicians and marine biologists. It initiated scientific site monitoring of its local waters, reviewed and improved its husbandry techniques and the quality of pearl production further improved.
2000-2009
By the late 90's early 2000's the effects of a global financial markets downturn began to really impact Pearl prices.
Maxima recognised it needed to expand its production, despite a flailing outlook for pearl prices.  Maxima purchased another company's pearling quota license and leases in Flying Foam Passage. This meant access to additional fishing grounds and hatchery quota.
At this stage Maxima had commenced looking into alternate species to fully utilise its hatchery and the skilled personnel on Turtle island to produce other aquaculture species once the pearling hatchery quota requirements were met.
Around this time Maxima started investigating using the waters of Cone Bay for multi species aquaculture production. In 1998, Maxima Fish Farms was established, gaining an aquaculture licence to initially spawn Pteria penguin shells and later Black Tiger Prawns in its hatchery facility at Cone Bay and then at the Broome Aquaculture Park.
The Tiger Prawn project was successful and expanded into the establishment of a commercial hatchery and pond grow-out operation in Darwin, trading as Tiger International Fish Farms Pty Ltd.
In 2002 Maxima started experimenting with Barramundi Aquaculture in Cone Bay. This venture proved successful and ultimately led to a sea cage grow-out trial in Cone Bay. This led to the establishment of the Publicly Listed Company- Marine Produce Australia (MPA), operating under Maxima Pearling Company's aquaculture licence (no. 1465).  MPA continues to produce Barramundi in Cone Bay.
2010-Present
In 2015, following extensive consultation the Kimberley Aquaculture Development Zone (KADZ) was established in Cone Bay.  The zone was declared with a production capacity of 20,000 tonnes per annum of finfish.  The WA Department of Fisheries called for expressions of interest for allocations in the zone in late 2016.
Today the KADZ is fully allocated with two companies having leases and licences in the Zone.
Marine Produce Australia has a 15,000 tonne per annum production licence and lease for finfish (Barramundi).
Aarli Mayi Aquaculture Project has a 5,000 tonne per annum production licence and lease for fin fish.
The Aarli Mayi Aquaculture Project is a joint venture between the Maxima Group of Companies and 3 traditional owner groups, Dambimangari Aboriginal Corporation, Bardi Jawi Nimiidiman Aboriginal Corporation and the Mayala Aboriginal Corporation..
Maxima Pearling Company continues to operate its Pearling Lease in Cone Bay  (separate to and outside of the KADZ).  It contracts other pearling companies to fish its wild shell quota and supply pearl shell for the farming operation.  It maintains a small crew on its Turtle Island base on a 2 week on, 1 week off roster. The crew manage the husbandry and research and development program.
Maxima has its own specialist pearl technician and Director- Melanie Carrington, who is conducting research into confidential new operating techniques and husbandry practices. All produce is cleaned, graded and valued by Maxima staff for sale to discrete clients from its Perth office.
Additional pearling bi-products are sold by Maxima to local markets and some overseas buyers. Products include frozen, cryovac packed pearl meat in 500 gram lots,  Mother of Pearl shell and personalised jewellery designs.
---
Operations
Locations
Kimberley pic and map of Pearling area
Maxima Pearling Co. is the third largest Western Australian producer of Australian South Sea Pearls. It is licenced to wild catch pearl shell from two locations:  Kimberley Zone 1- Lacepede Channel and Zone 3 southern Eighty Mile Beach, for a total of 10,000 shell and Pilbara zone? 30,000. Additional to the wild catch quota is the Hatchery produced shell quota of 60,000 shell.
Pilbara pic and map of Pearling area
Maxima Pearling Co. has in recent years researched opportunities for its Pearling Lease sites in Flying Foam Passage. An announcement was released in October 2017 for the Pilbara Edible Oyster Project, a JV between Maxima Pearling Co., City of Karratha, Pilbara Development Commission, Department of Fisheries and Murujuga Aboriginal Corporation.
building on a strong foundation
Maxima has established its pearling and development projects based not just on a proven history of business acumen, but also on our solid background in both fishing and marine farm husbandry.
With this foundation, Maxima is able to identify and actualise potential.